Next Steps: Getting Started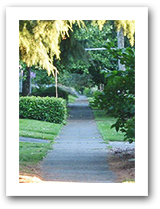 How to get your Landlord Training Program off the ground
If you are still in the information gathering stage, then we recommend you begin by reading the PDF files available for viewing on this site that offer the National Landlord Training Program Manual and the Monograph: Keeping Illegal Activity Out of Rental Property : A Police Guide to Establishing Landlord Training Programs.
If you are ready to get started and are not sure what to do next, you have come to the right page.
 
There are three approaches that agencies use to get their Landlord Training Programs started. Two of them involve gaining the benefits of the National Landlord Training Program, Train-the-Trainer Seminar:
1) Have us present a customized three-day training for your agency and/or your region. This saves travel money for your staff, but includes the costs for hiring us as trainers. It will also typically take more upfront work on your part to handle the local logistics associated with hosting a training. Two of the greatest benefits are that you will have an orientation to the program from the original training designer and, upon conclusion of the three days, your program will already have been introduced to the community, with your first training already presented to your landlords. For information about how we can help provide this course for your agency, including estimated costs, click here.
2) Send staff to scheduled trainings that are sponsored by other jurisdictions. The benefit of this approach is obvious: it usually costs no more than the time and travel for your staff to attend the training. Most jurisdictions hiring us to provide the training will welcome regional participants for either no cost or sometimes for a very small fee payable directly to the sponsoring agency. The drawbacks are two: first, you'll need to wait for when a training convenient to your schedule is available near you; and second, the training you attend, while certainly valuable, will not be customized to your jurisdiction. For information about the possibility of attending trainings sponsored by other agencies, please contact us via e-mail, mail or phone for the latest training schedule information.
3) Learn from other agencies in your state, without "going to the source." Some agencies develop their trainings without first attending the National Train-the -Trainer Seminar. Typically, they work with other presenters within their state who are already conducting the training and, after gaining licensing permission from CDRI, adapt the program materials to their agency's needs. This option is certainly permitted, as permission to adapt the materials is not contingent on participation in our trainings. However, while we very much encourage agencies to learn from each other within their states, we also offer this caution: experience has definitely shown that your best program will be one based on the foundation of the National Landlord Training Program Train-the-Trainer Seminar. While we understand it is self-promoting for us to recommend this, it is also true. If you are interested in contacting other agencies in your region who have experience with the Landlord Training Program, feel free to contact us via e-mail, mail or phone for references to agencies nearest you.